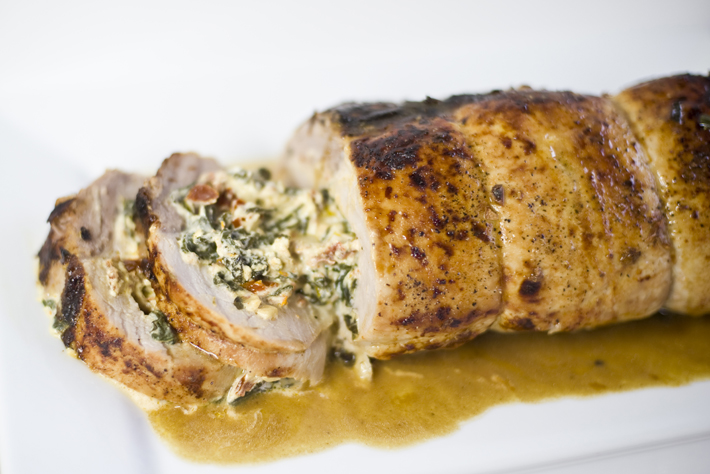 i should just tell you up front, this isn't really a recipe.
the other day, i was watching the food network and saw a recipe for stuffed pork chops. yum. so i went to the store to buy a few ingredients and somehow returned with a pork tenderloin instead. so now i had to improvise. i did my best to remember what might have been in a dish i had at a restaurant years ago. i looked through a few recipes on the foodnetwork.com. i consulted the joy of cooking and my friend, justin. and i picked up some goat cheese because my boyfriend has been begging me to try it in a recipe. eventually, this is what we came up with.
i don't know why i didn't pay more attention to what i was doing. i suppose i wasn't sure just how it was going to turn out, so making notes of my recipe to share with the multitude didn't really occur to me. i should have known it would turn out delicious – i mean, how can you go wrong with stuffing a meat full of delicious things?
so if you are feeling a little adventurous, here is approximately what i did [to the best of my memory].
the filling:
2 cloves garlic
10 oz. spinach
4. oz sun-dried tomatoes
4 oz. goat cheese
4 oz. cream cheese
1/2 c. sour cream
with a little olive oil, sautee garlic and chopped spinach until nearly cooked through. add sun-dried tomatoes. remove from stove when the spinach is cooked to your liking. in a separate bowl, mix goat cheese, cream cheese, and sour cream together until smooth. add the spinach + sun-dried tomatoes to your creamy mixture.
then you will need a pork tenderloin – i think ours was close to 3 pounds? i really can't remember. but it was big. so if you are cooking something smaller, you will probably only need about half of the filling.
cut your tenderloin open so it lies flat, rather than as a roll. (i should have taken a picture of how we did it – it's a little hard to explain. but you guys are smart, so i'm sure you can figure it out). pat the pork dry with a paper towel, then place on a baking sheet. spread the filling across the pork, then roll the tenderloin up like a jelly roll, keeping the mixture enclosed. secure the pork with toothpicks or cotton strings (that is what we used).
brush the top of the pork with olive oil, and lightly sprinkle salt and pepper atop.
bake at 400 degrees, until the internal heat of the pork is 155 degrees (you will need a meat thermometer). i think we baked ours for about an hour. like i said, i should have paid better attention. if you overcook your pork, it will end up being dry and not as delicious. so at about 40 minutes, check your pork with your meat thermometer and keep an eye on it. cooking time will also depend on how much meat is being cooked, so it may vary.
so what do you think? doesn't it look fabulous!
i love trying new things in the kitchen.
i love it even more when they turn out.
but just remember, no matter what you're cooking, don't get discouraged if it doesn't turn out quite like you expected. it is a learning experience. for example, i thought it would be a really good idea to put chopped garlic on top of the pork while it baked. but since we were baking it at such a high temperature, it only took 10 minutes for the garlic to start burning and smoking. so i had to pull it out of the oven, which set off the fire alarm, and scrape off all of the garlic into the sink.
like i said, don't get discouraged. we're all learning. [exhibit a].
so go ahead. try something new. be a little daring. maybe even set off the smoke alarm.
and as always, happy cooking!
for more of my favorite recipes, click here.